Soviet Armenia
29, November, 1920 armenian revolution committee had proclaimed Armenian Soviet Socialist Republic. Constitution of the republic was adopted on 2, February, 1922.
According the Constitution state flag was red with gold letters "SSRA" or full name ofthe republic.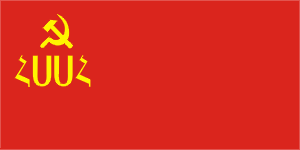 According Constitution of ASSR (article 121) of 23, march, 1937 flag of republic was red with gold sickle and hammer and abbreviation of state name in armenian. In 1940ths armenian text was slightly changed.
17, December, 1952 new version of state flag was adopted by Presidium of Supreme Soviet of the republic. It was red flag with blue horizontal stripe (width of the stripe equal to 1/4 of flag-height) Gold sickle and hammer, red star bordered gold were in canton. Ratio 2:1.
Blue colour symbolized rivers of Armenia and lake Sevan.
---
© Victor Lomantsov, Russia, Orenburg. All rights reserved
last edited 24.8.2002